It's rare to find a productivity app that does everything perfectly—no matter what kind of app. There will always be pros and cons to each. For example, I recently have been in the market for a notes app, and my journey involved 11 different apps and dozens of hours of seeing what worked best for me. I have finally found a system that allows me to write three issues of Clicked a week. So here is my workflow for capturing content, making notes on them, and using those notes to create original content for Clicked.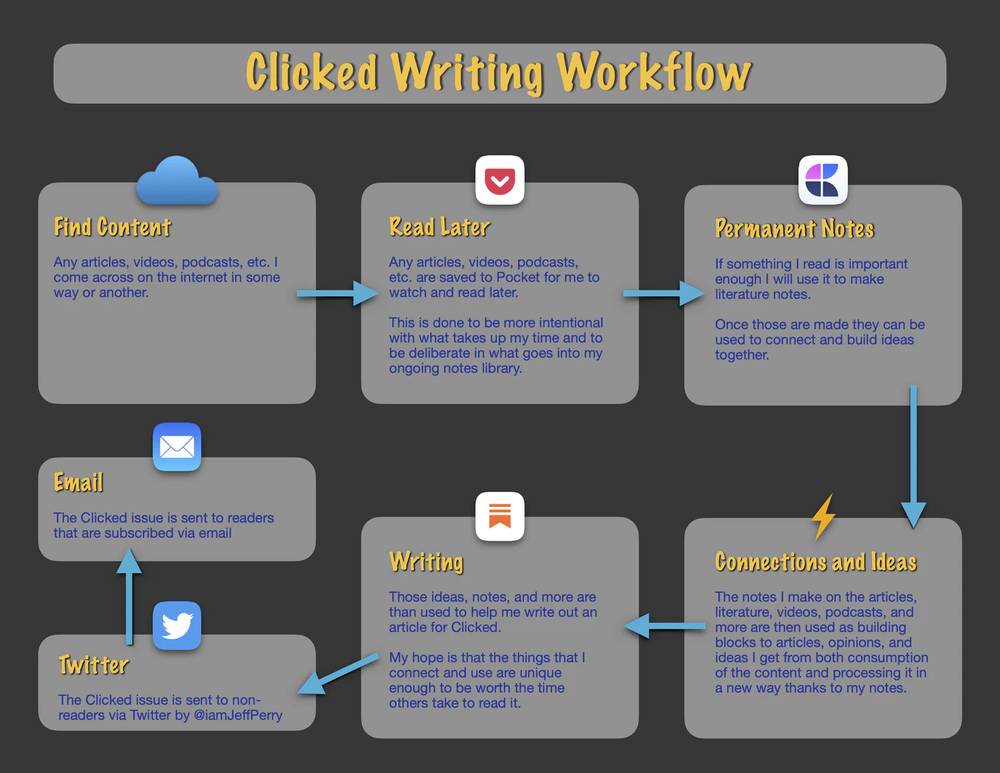 What I Need in My System
The first thing I did to find a notes app that works with me was figure out a system. I wanted a place to save links to read later, a place to save ideas and thoughts, and a way to make connections with the permanent notes I make.
Read Later
When it came to picking a place to save links for reading later, I decided to go with Pocket; it is a read later app I enjoy using, and it has never been an issue for me at any point. Instapaper and Matter are also good options, but Pocket has been my read later app of choice for years now, and I decided to stick with what I knew and focus on other things with this system. So any articles, media, or tweets I like, I send to Pocket either on my phone or my Mac. Thanks to the Share Sheet on iOS and Pocket's web browser extensions, it's super easy.
Anything I save in Pocket is not in my notes system, and for a good reason. Not everything I save deserves to be a permanent note in Craft. For me, notes are kept for only things written in my voice. I don't want to copy and paste someone else's words into my notes because it doesn't allow me to comprehend the writing thoroughly.
Also, I only create notes when I feel they can be used for future ideas and projects. For example, a short article about a new Apple rumor will likely not make it into my notes system because it is an unfounded rumor and will be less relevant as time goes on. My goal when I create a new note is that it adds to my overall knowledge and insight into something rather than being just a timeline of things that happened.
Daily Note
I have also found a daily note to be critical to me. When I have a fleeting thought, task, or idea, I just put it in my daily note so that I have captured that thought in a trusted system to be later processed. Then, I try to process those ideas and fleeting notes made throughout the day to keep things organized and limit the backlog to a minimum.
Fleeting notes have proven to be the buffer I need between an idea and a full-fledged note. As David Allen, creator of the GTD system, says,
Your mind is for having ideas, not holding them.

- David Allen
Making Connections
Finally, having everything in Craft allows me to make connections and link back to other notes or ideas as a way to have new ideas and things to write about possibly.
Thanks to backlinks, I can also see the links I have made to the note I am in. For instance, if I am looking at a note about podcasting, I can see all of the notes I have made linked to the podcasting note at the bottom. This allows me to see connections I might not have seen otherwise.
What I Learned
After trying numerous notes apps and tweaking my system, there are a few things that I have learned, and feel can be helpful for anyone getting started in content creation.
Just Pick a Notes App
I chose Craft as my notes app, but there are a ton of other options that I think can work for someone looking to make their own a system. Among the apps I tried, these are some of the ones I felt were great but not the best option for me.
If I am being honest, there are things that some of these apps do that are better than Craft; but as a whole, I chose Craft because it fits the most of my needs and wants in a notes app, and I let its shortcomings fall to the wayside. The same thing could be said about any of the note apps above because – like I said – there is no perfect app for storing and organizing notes.
Also, stick with your notes app because a note-taking app is only as valuable as what you put in it. If you don't stick with a notes app for long and hop from one to another, you are losing the actual value of a notes app. The value isn't the features or the bells and whistles it has; the important stuff is the content you bring to that app. That content and those connections you make with them are exponentially growing in importance every time you add to that notes system.
So once you pick an app, dedicate yourself to it for at least six months to a year. I put my money where my mouth was and paid for a year of Craft Pro. That $48 a year I spent locked me into this app because I invested my hard-earned money, and I want to get my money's worth out of it.
Final Tips and Further Research
I hope this has helped you understand how I work on Clicked, and more importantly, I hope it has helped you know what a note-taking system can be.
If you want to learn more about the features a notes app has or compare different apps to choose what is best for you; I highly recommend going to NoteApps.info; it is a beautiful site to use to find and compare features in a notes app.
If you want to learn more about Craft you can read my article Why Craft is the Note Taking King.
Until then, I will see you Wednesday, June 8th, with links from the past week I found to be interesting, entertaining, weird, or all of the above.